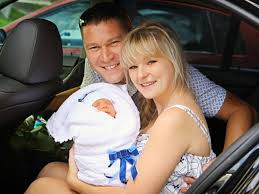 Believe it or not, your baby will actually be ready and comfortable enough for travel when he hits his three-month mark. In fact, you'll even find that your baby will cause you less trouble because he won't be able to run around and cause mischief just yet. Of course, it's best for you to start out with low-key, stress-free trips, so both you and your baby will be able to relax without any added problems. Be careful not to overwork him, as the constant diaper changes and feedings may wear him out quickly. Additionally, take care that he does not catch anything during your travels.
Is It Safe to Travel with a Newborn?
If you will be traveling with newborn by air, be sure that your baby is at least two days old, as this is the minimum age allowed by most airlines. If your baby has already passed his two-day mark, you shouldn't have any problem when it comes to regulations or policies. However, it is always best to wait a few more days or weeks just to be certain that your baby is fit for travel. Besides, this will also give you more time to establish a feeding and changing routine.
At three months, your baby should be up for the challenge of being in a new environment. He will not be as fragile anymore, and will probably be comfortable even in a different setting.
What Should I Pack Before Traveling with Newborn?
1. Gear
A blanket is a must-have to give your baby sufficient warmth, shade, comfort, and protection. If you plan on being on the move for most of the trip, bring a baby sling will make your travels much easier, especially in busy areas. A portable car seat will be ideal for planes, buses, and trains, too. It doubles as a baby seat and will be manageable enough during travel. A stroller that is lightweight and preferably collapsible will serve you and your baby well when you visit town or city destinations. On the other hand, a pushchair that will run on any kind of terrain will be great for bumpier trips.
2. Feeding Supplies
Bibs, wipes, spoons, beakers and plastic bags are all important feeding equipment you shouldn't forget to bring.Bring a breast pump so you can express milk while on the go. A shawl will give you some privacy while your baby breastfeeds.It's always best to bring more snacks and food than necessary, just in case. Pack tubs of baby food and snacks, depending on what your baby can eat.If you plan on bringing formula milk, take enough to last the entire trip. Don't forget to pack bottles, teats, sterilizing equipment and a bottle warmer along, as well.
3. Clothes and Diapers
An assortment of hats will be helpful for keeping the harsh rays of the sun off your baby. Diapers, rash cream, wipes, and diaper bags are all essentials for your baby's comfort and hygiene. Bring an assortment of cool and warm clothes. Pack a lot more than necessary so your baby will have something to change into in case of emergencies.
4. Bed and Bath Supplies
Blankets and pajamas will help your baby sleep well at night. A plug in night light will help you change and feed your baby at night. Bring enough sponges, lotions, shampoo, and baby wash to last the entire trip. A universal travel bath plug will instantly transform any sink or tub into a bath for your baby. Socks can also cover bumpy objects like taps.
5. Other Things You May Need
Unless you are sure there is a cot where you are headed, bring one with you. Pack a first-aid kit that contains all the supplies you and your baby will possibly need. Travel black-out blinds work great for shading away the sunlight while your baby naps. A baby monitor can help you look after your baby even if you are not in the same room. A travel stair gate will block off any open doorways that your baby might wander through. Swim nappies are great to keep handy, especially as they are difficult to find in other countries. A plug adapter will allow you to use your baby monitor and night light, even if the sockets are different where you are staying. If your baby is younger than six months, keep him totally away from the sun. Otherwise, SPF 15 sunscreen will be enough protection.
Watch this video and find out the things you will need for your trip:
Tips for Taking Care of Your Baby When Travelling
1. Keep Your Baby Safe
Try and avoid feeding your baby while flying so he does not suffer from earaches. Protect your baby from the sun with removable window shades you can attach to any vehicle. Infant paracetamol, colic treatment, saline nose drops and teething gel are all essentials you should pack in a first-aid kit. Be certain your baby's car seat is installed properly on a rear-facing car seat, never where there is an airbag. Always fasten his seatbelt correctly.
2. Find a Convenient Way to Feed Your Baby
When it comes to feeding your baby, breastfeeding is your best option as it does not require you to use any equipment. If this is not possible and you have to use formula, you can bring ready-made formula packs or make your own with sterilized boiled water and powder. Travel sterilizers and pre-sterilized bottle liners are commercially available.
If your baby already eats solids, bring sachets or jars of baby food for your trip. Don't forget to pack a bib to avoid making a mess!
3. Make Your Baby Happy
Your baby should be well-rested on the day of your trip, so make sure he gets enough sleep the night before. A pushchair or baby carrier will make him more comfortable, especially if you will be moving around a lot. Rattles, stuffed animals, pop-ups, teething rings and other toys will also help keep his interest during a long trip.
A change of scenery may also keep him calm, so try to walk him around the plane, train or vehicle if you can. After every couple of hours, lay him down on a safe surface and give him a chance to kick his legs. Hydration is also very important while traveling.
Watch this video and find out some helpful tips for traveling with newborn: