A Sip and See party is a trendy new way to have friends and family come meet your new baby. It is modeled after an old tradition where people would go out and drink in celebration of a new baby called "Wetting the Baby's Head." While the older tradition was usually just guys going out to the pub, this new tradition is actually a party hosted at home. This type of party has been popular in the United States and is now gaining popularity in the United Kingdom as well. Read on to learn more about Sip and See parties.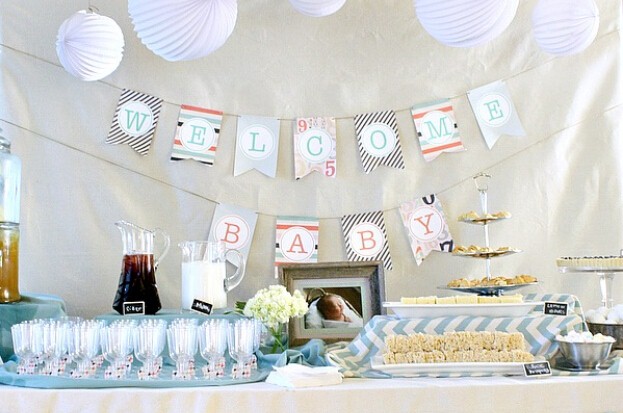 What Is a Sip and See Party?
A Sip and See party is a welcoming party for a new baby. See parties used to be going out for a few drinks. They have now evolved into large parties in the home. They have become large lavish affairs with cake and champagne, and people don't spare any expense. The guests arrive to a warm welcome with cocktails and maybe light appetizers.
This tradition is gaining speed over the traditional baby shower. There is no large meal, no games, and no gifts are required. Mom and dad set a time for guests to drop by, have a drink and some snacks, see the baby and be on their way.
Why Do New Parents Have a Sip and See Party?
As mentioned above, a sip and see party is about meeting the new baby and a chance for new parents to socialize with friends on their own terms. Plus, an added bonus is baby gets to be at the party thrown in their honor! Besides immersing in the joy of your baby's arrival, you can plan your party, set the times for people to drop by, and decorate tastefully!
What Should You Know About Sip and See Party As the Hosting Parents?
Here are a few easy guidelines to follow when planning:
1. Timing
You may want to have your Sip and See after mom has recovered from the birth. When your baby is still a newborn, you may want to keep things calm around the house and germ free. You will also need your rest in the first weeks. Wait at least two months to make sure you are ready.
2. The Guest List
You can invite anyone you want. While your close relatives have most likely already seen the baby, this may be the time to invite friends and co-workers over. You can also keep it to family and close friends only if you like and send out birth announcements to the rest.
3. Hosts
This is the fun part! Baby showers are usually thrown for you, but a sip and see is something you can throw for yourselves. Just remember that you will be very busy with a new baby, so you may want to enlist the help of friends and family.
Note: A sip and see party is actually a cocktail party. So, you don't really have to do much to entertain guests. They are there for a quick drink and see the new baby. No games, no formalities. It is a very lighthearted and easy-going event. Think of it more like an open house where people just show up and go home. It really is very casual.
4. About the Baby
As for baby, if baby is sleeping host your cocktails in the living room and take each guest back to the nursery one or two at a time to "see" the baby. If baby is awake, try to limit too much handling by other people. This tends to get baby overstimulated.
How to Plan a Sip and See Party
1. Send Out Invitations
Once you have your guest list in order and the time is set, you can start sending out invitations. You will want to send them out prior to your due date. Tell guests in the invite the start and end time so they don't stay too long and wear you out.
2. Plan the Drinks
Plan a drink menu of what your guests will "sip." Some people host only champagne, while others offer beer and wine. Make sure you have some non-alcoholic drinks available for kids and people who don't drink. It doesn't always have to be an alcohol party either. Many sip and see parties can be themed tea parties or coffee and dessert works well too!
3. Plan Food
The purpose of a sip and see event is to avoid too much work. Plan for light appetizers and finger foods. You can even save yourself some work by assigning certain guests to bring something. Ideas for party foods are chips and dips, veggie platters, cookies, chicken wings, and mini quiche.
What About Guests and Gifts?
Some of your guests may want to know about gifts if you didn't have a baby shower. If you don't want any gifts just note this in the invitation. If you would like some gifts, make sure to include a note where you have registered. Just make it clear on the invitation.
Make sure you have a table set up for gifts in the area. The etiquette at a "sip and see" is the new parents open gifts after the guests have gone home. You can always note on the invitation for guests to bring their gifts unwrapped so everyone can "see" what baby got.