Pregnancy is the most important time in your life to make sure you are eating the best foods. You will need to get a variety of minerals, vitamins and other nutrients to feed your body and your growing baby. Pregnancy recipes can help put all the needed elements into one delicious meal. This is especially important if not everything tastes good lately. Read on for some yummy and healthy pregnancy meal ideas.
11 Tasty and Healthy Pregnancy Recipes
After learning our pregnancy diet plan to know what to eat and what to avoid during pregnancy, you've got to learn how to make those mouth-watering pregnancy recipes!
1. Spinach Omelet with Tomato and Cheese
Time: 18 Minutes
Ingredients
2 Eggs
3 Tbsp. Milk
1 Cup Chopped Spinach
1 Diced Plum Tomato
2 Slices Swiss Cheese
1 Tbsp. Extra Virgin Olive Oil
Salt and Pepper
Instructions
Beat eggs together with milk in a bowl. Add salt and pepper. Stir in Spinach. Heat olive oil in skillet. Pour eggs in, cook until bottom is white. Add tomatoes and cheese and fold in half. Cook two minutes on each side.
2. Berry Baby Smoothie
Time: 10 Minutes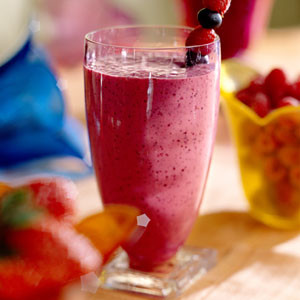 Ingredients
1 Ripe Banana
½ Cup Low-fat Yogurt
1 Cup Frozen Berries or Mixture of All (Strawberries, Blueberries, Raspberries, and/or Blackberries)
2 Tbsp. Honey
½ Cup Orange Juice
Instructions
Pour orange juice in blender first, then yogurt. Add frozen fruit, banana, and honey. Blend on puree setting until smooth.
3. Oatmeal Cookies with Chocolate Chips
Time: 34 Minutes
Ingredients
1 Cup Fat-Free Margarine
1 Cup Semi-Sweet Chocolate Chips
1 Cup Firmly Packed Brown Sugar
½ Cup Granulated Sugar
2 Eggs
3 Cups Oats
1 ½ Cups Cranberries
1 Tsp. Vanilla
¾ Cup White Flour
¾ Cup Whole Wheat Flour
1 Tsp. Baking Soda
1 Tsp. Cinnamon
½ Tsp. Salt
Instructions
Preheat oven to 350°. Sift together flour, baking soda, and cinnamon, salt. In separate bowl, cream margarine, eggs, sugar, brown sugar and vanilla. Combine mixtures and add oats, cranberries and chocolate chips. Drop by teaspoon onto cookie sheet and bake for 10 to 14 minutes.
4. Orange Bowl Fruit Compote
This is one super fun pregnancy recipe that's not only delicious but also healthy!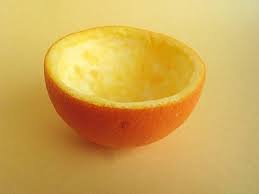 Time: 10 Minutes
Ingredients
2 large Seedless Oranges
1 Apple, Peeled and Cut to Bite-Size
1 Banana, Peeled and Cut
Instructions
Cut oranges in half and scoop out flesh. Cut orange flesh into bite-size pieces and toss with apple and banana. Scoop back into the orange shell for a pretty bowl.
5. Pancakes with Cottage Cheese Filling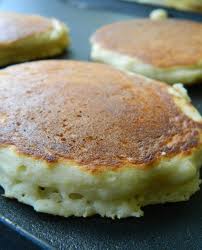 Time: 30 Minutes
Ingredients
1 Egg
½ Cup Low-fat Cottage Cheese
1 Tsp. Canola Oil
3 Tbsp. Whole Wheat Flour
Instructions
Beat egg in bowl. Strain cottage cheese through strainer into egg and mix. Add oil and flour in and mix well. Grease and preheat skillet on stove. Drop batter and flatten with back of spoon. Cook 3 to 5 minutes on each side. Serve with jelly, syrup or applesauce.
6. Lemon Herb Butter Steak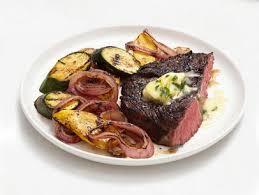 Time: 25 Minutes
Ingredients
2 Tbsp. Room Temperature Butter
1 Tbsp. Fresh Thyme, chopped
1 Tbsp. Fresh Rosemary, chopped
1 Tsp. Lemon Zest
Salt and Pepper to taste
2 New York Steaks
Instructions
Light grill until hot or preheat broiler for 4 minutes. Mix together butter, lemon zest, salt, pepper, thyme and rosemary. Rub steaks with salt and pepper and cook on grill or in broiler 4 to 6 minutes each side until meat reaches internal temperature of 160°. After cooking, slather herb butter on top of steaks. Serve with asparagus and baked potato or rice.
7. Blueberry/Walnut Whole Wheat Pancakes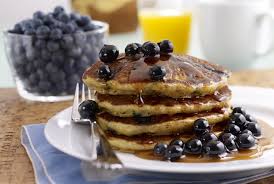 Time: 15 Minutes
Ingredients
2/3 Cup Whole Wheat Flour
1 Tsp. Baking Powder
Pinch Cream of Tartar
½ Tsp. Salt
½ Cup Milk
1 Large Egg Yolk
2 Tbsp. Melted Butter
2 Egg Whites
2 Tbsp. Chopped Walnuts
2 Tbsp. Maple Syrup
1 Cup Fresh or Frozen Blueberries
Instructions
Mix together flour, baking powder, walnuts and salt. In a separate bowl, whisk milk, egg yolk, maple syrup and butter. Stir in flour mixture. In another bowl, beat egg whites and cream of tartar until stiff peaks form. Fold into batter. Mix in blueberries gently. Drop onto heated greased griddle and cook 3 to 5 minutes each side.
8. Salmon Packet Dinner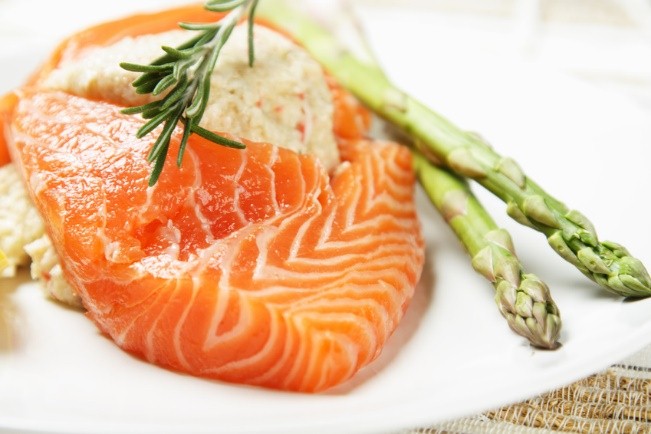 Time: 20 Minutes
Ingredients
3 Salmon Fillets, Wild Caught
9 Chopped Black Olives
3 Chopped Cherry Tomatoes
1 Handful Chopped Basil
3 Tsp. Olive Oil
3 Tbsp. Lemon Juice
Instructions
Preheat oven to 350°F. Take 3 large squares of aluminum foil, large enough to wrap up fish. Place a piece of fish in the center of each foil and top with olives, basil and tomatoes. Sprinkle on some of the lemon juice and olive oil and wrap up to seal pouch. Bake in oven for 10 to 15 minutes until fish is flaky. Serve with veggies and rice.
9. Spicy Frittata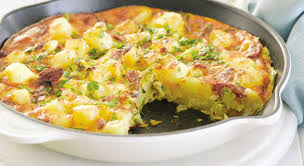 Time: 45 Minutes
Ingredients
2 Potatoes, Peeled and Cubed
1 Small Onion, Sliced Thin
1 Red Bell Pepper, Seeded and Sliced Thin
3 Eggs
¼ Cup Grated Parmesan Cheese
3 Tbsp. Olive Oil
Instructions
Heat olive oil in skillet. Toss in potatoes and sauté until cooked through and browned. Add onion and bell pepper and cook through. In a bowl, whisk eggs with a drop of milk and mix in parmesan cheese. Turn heat down on pan and pour eggs over potatoes, onions and peppers. Cook slowly until eggs are set. Serve with salad for dinner or toast for breakfast.
10. Sweet Potato and Leek Bisque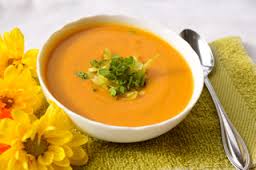 Time: 45 Minutes
Ingredients
4 Sweet Potatoes, Roasted/Peeled/Chopped
2 White Potatoes, Baked/Peeled/Chopped
1 Leek, Thinly Sliced
1 Garlic Clove, Peeled and Crushed
4 Cups Chicken Stock
1 Tbsp. Olive Oil
½ Cup Heavy Cream
Instructions
Sauté garlic and leek in olive oil until tender. Pour in chicken stock and toss in sweet potatoes and white potatoes. Simmer for 25 minutes. Turn off heat and puree with hand blender. Pour in heavy cream. Stir well. Serve with crusty French bread and salad.
11. Thai Beef Salad with Mandarin Oranges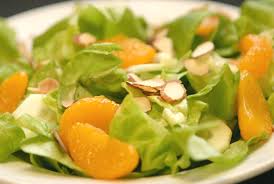 Time: 20 Minutes
Ingredients
2 Strip Steaks, Thinly Sliced
2 Tbsp. Thai Seasoning
1 Red Pepper, Thinly Sliced
3 Tbsp. Olive Oil
1 Mandarin Orange, peeled and separated
1 Mandarin Orange, juiced and zested
Instructions
Heat Olive oil in skillet. Stir fry steak, pepper until browned and pepper is soft. Sprinkle with Thai seasoning and sauté for 5 to 10 minutes. Pour on orange juice and zest. Serve over steamed rice and topped with mandarin orange pieces.
Healthy, nutritious pregnancy recipes for pregnant women: