Luau is the coolest way to beat the heat and have a fun and relaxing night. Arrange a luau party for your kids, mixing all the fun and adventure in. Here is a list of great luau food for kids without making them stuff their mouths with sugars.
Luau Food for Kids: 3 Most Popular Recipes
1. Rum-Glazed Spare Ribs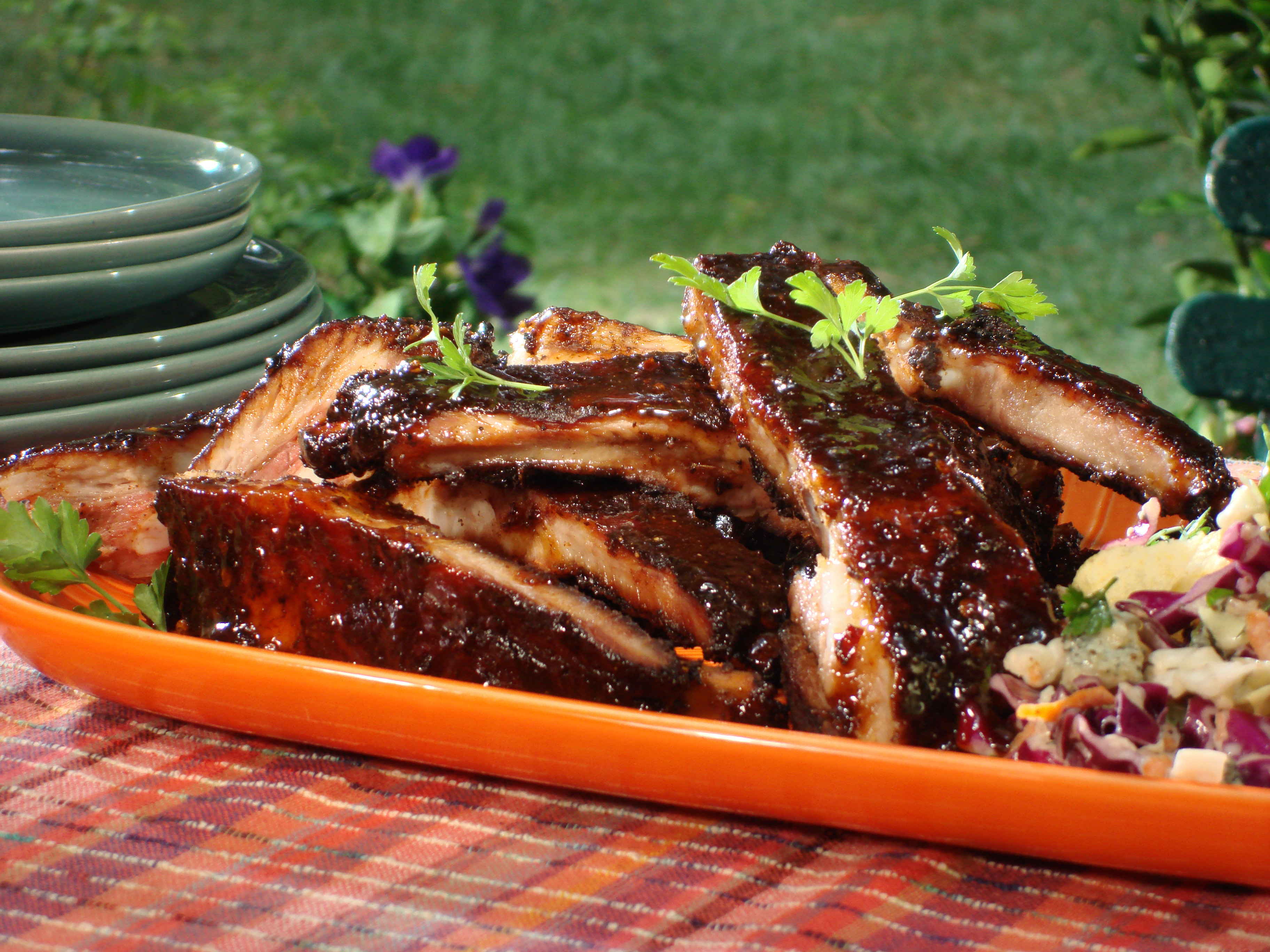 Bring the rich Hawaiian dish to your kids' luau by transforming the pork ribs into irresistible oven baked rum glaze.
Servings: 8
Ingredients

Directions

Spare ribs 1 rack of 3-4 lb
Vegetable oil 2 tbsp.
Dark brown sugar 1 tbsp.
Paprika 2 tbsp.
Worcestershiresauce 1 tbsp.
Tomato paste 4 cups
Sugar 4 cups
Dark rum 1 cup
Salt 1tbsp.
Pepper 2 tbsp.
Cumin 1 tbsp.
Tabasco ½ tsp.
Barbecue sauce

Preheat the oven at 350°F.
Brush the ribs with vegetable oil.
Add salt, pepper, cumin, paprika and brown sugar in a bowl. Mix well. Then rub the entire content on the ribs.
Place these ribs in roasting pan and add a cup of water. Cover the pan with aluminum foil and put it in the oven to bake for about 1.5 hours.
Take a pan and add Worcestershire sauce, tomato paste, sugar, tobacco and rum. On a medium heat, allow it to boil by cooking for five minutes.
Once the ribs are bakes, peel off the foil. Pour all of the rum mixture on the baked ribs, leaving out only half cup.
Continue with the baking, this time place the pan uncovered. Turn around the ribs a lot.
Once the meat gets tenderin almost an hour, take out the roasting pan.
Leave it for a few minutes before cutting into separate portions.
Serve the hot ribs with a barbecue sauce.
2. Banana-Coconut Upside-Down Cake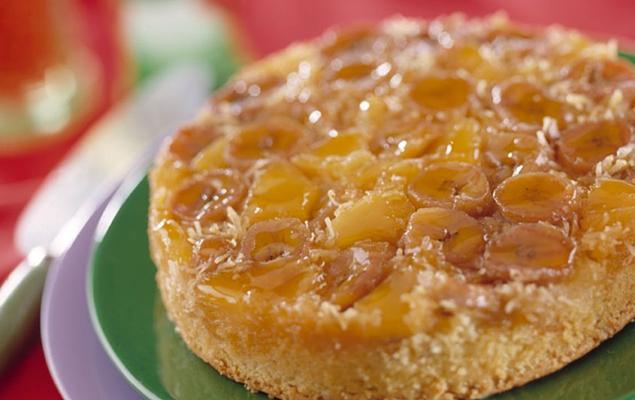 Bake this Hawaiian inspired cake in a unique way by adding bananas.
Servings: 8
Ingredients

Directions

Cake

Milk ¾ cup
Vanilla extract 1 tsp.
Eggsn 2
Sugar ¾ cup
Softened, unsalted butter 1 stick of ¼ lb.
Salt ½ tsp.
Baking powder 1 ½ tsp.
Flour 1 ¾ cups

Topping

Shredded coconut 2 cups
4 sliced bananas with thickness of ¼ inch
Lemon juice 2 tbsp.
Light brown sugar ¾ cup
Unsalted butter 4 tbsp.

Preheat the oven at 375°F.
For the topping, melt the butter in an ovenproof skillet of 12 inches and depth of 2 inchesat a medium high heat. Add brown sugar and cook, stir until it's smooth. Then add the lemon juice and continue to stir until it begins bubbling. Place the sliced bananas on the base of a flat layer,and cook till they are soft for 2 minutes. Sprinkle the shredded coconut and remove the skillet from heat.
For cake, mix salt, baking powder and flour. Beat the butter through an electric beater at a high speed. Once it becomes creamy, add sugar in it and beat again for 5 minutes until it gets fluffy and light. Slow the speed and add 3 eggs one by one, beating after adding each. Then add vanilla and beat. Add milk and flour mixture alternatively, ending the sequence on flour.
Pour this beat mixture on the coconut and arranged bananas without mixing them with the batter.
Bake the cake for 30-40 minutes.
After baking, let it stay in the skillet for a few minutes. Then run around the knife on the corners of the cakes and invert it on a wire rack to allow it to cool.
3. Cucumber Salad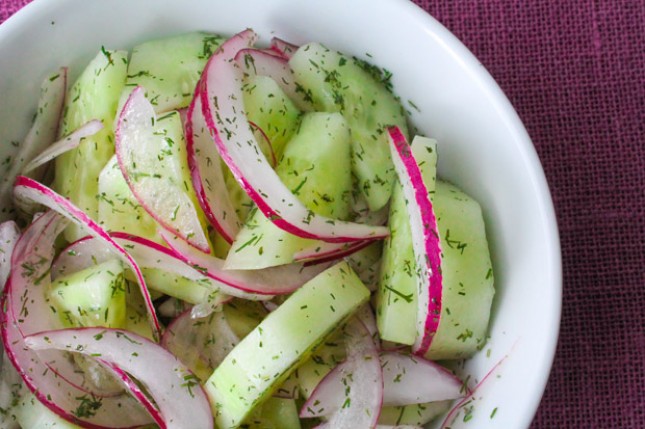 This inexpensive recipe of the quickest salad will serve you well. How quick? Just 10 minutes. Viola!
Servings: 8
Ingredients

Directions

Fresh chopped dill 2 tbsp.
Olive oil 2 tbsp.
Pepper and salt
3 thinly sliced, seeded and peeled cucumbers
Rice vinegar 3 tbsp.
1 thinly sliced and halved red onion

Take a bowl, add 1 tbsp. vinegar and toss onion in it.
In a colander, add the cucumber and add ¼ tsp. of salt. Continue draining for 10 minutes.
Mix the cucumber and onion in a large bowl. Add olive oil and rest of the remaining quantities of ingredients then add dill seasoned with some pepper and salt.
Cover the bowl and allow it to chill before serving.
Luau Food for Kids: 10 Cool Food Ideas That Will Make the Party Rock
Colorful taster bites. Add the healthy colors to your luau by these tropical tasters that will enhance the topical atmosphere around you. On palm tree picks, serve the cut slices of strawberries, pineapples and kiwis.
Fried egg rolls. Also introduced by Chinese, egg rolls are popular all over the worlds. Before serving it, fry the egg rolls on high heat. Serve hot crispy egg rolls with a yummy dipping sauce of your choice.
Delicious dip. Place the finger-cut veggies in a cool patterned chip and dip dish. You may add pineapple slices to the dish as well. Add the dip in the built-in central cup and serve it to your guests.
Roasted pork sliders. Pork sliders stuffed with mango-pineapple salsa are small meal, but your guest will certainly enjoy it. For salsa, you will require a minced garlic clove, lime juice, salt, chopped jalapeno and onion, diced red pepper and pineapples.
Star fruit skewers. The starry fruit skewers are quick to make, and they can make the luau even more beautiful and eatable! Layer the watermelon and starfruit on a bamboo stick to prepare these cute edible stars. Add melon balls, blueberries or grapes in between to make them juicy.
Tuna poke. Entertain your guests with the Hawaiian inspired raw seafood salad—tuna poke. Present it in the transparent plastic bowls to make it even more appealing.
Icy tropical drinks.Add the tropical fruits like pineapples, kiwis, bananas and citrus fruits in a table-presentable hued bowl full with icy drinks. You can add floating umbrellas on top.
A customized menu. Let your guests get a quick flash on what delicious things you are presenting on the luau. You can make a cute customized menu card with a flower patterned boarder or any of your own ideas.
Hawaiian char siu pork. Officially introduced by Chinese, char siu pork is now a popular dish all around the world, from Japan to Hawaii. It is one of the major favorites added to Hawaiian luau.

Macadamia nuts. Nutritious Hawaiian nut, macadamia nut comprises of good fats and proteins. It's a low carb treat for the luau. Present them in the form of chocolate covered nuts, candied nuts, toasted nuts or whatever you prefer.
Want to get some more innovative luaus party ideas? Check this video out: