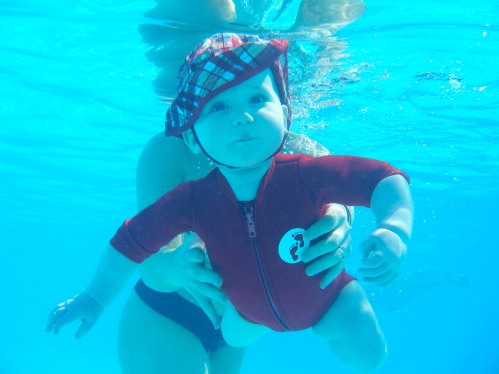 Summertime can be hot and everyone loves swimming in the warmer months. Many new parents want to know the answers to the question "when can babies go in the pool".That may be easier than you think and with some advance preparation, you can make this first event less stressful and scary.
It is really just a matter of using a good swim diaper and some sunscreen to protect your baby's skin from burning. It is also important to make sure the water temperature is not too cold. If you are going out to a pool away from home, take some snacks, extra dry diapers and towels. Once you make all your preparations, you will be ready for an exciting new adventure with your baby!
When Can Babies Go in the Pool?
Swimming can be dangerous for babies younger than 2 months. For babies younger than 2 months, their vulnerable immunity systems can be a concern when going in the pool. Also remember that babies less than one-year old should never swim in a public pool. There are two reasons for this precaution:
The Hygiene of Water in Pools
Babies have weaker immune systems than older children and adults. There may be bacteria and/or parasites lurking in public or unfamiliar pools that could make your baby sick. Always monitor your baby for signs of illness after swimming, like allergic reaction or infections. Usually, you need to keep an eye on rashes or a urinary tract infection. If you are using a pool that you are sure of the hygiene of water, you can let your babiesbegin to swim in larger pools sooner.
Coordination and Confidence
One thing you have to keep in mind that until 2 or 3 years old, the baby can be coordinate enough in the water. However, the baby can enjoy being in the water under your help, which can helps the baby be relaxed and confident.
What Should Babies Wear in a Pool?
1. Use a Swimming Diaper
Most important for babies who swim is some type of diaper that absorbs urine and/or feces. This will help to protect the pool from contamination. If your child wets or soils the swim diaper, be sure to change is right away. Also, change it after swimming to avoid a rash on baby's bottom.
2. Floating Stuff
Prepare some floating stuff for you babies, like some blow-up floating device or a life vest. Make sure these devices fit your baby snuggly and always monitor your child to wear them properly. They can assist to keep your child from going under water quickly. However, the floating stuff can never be a substitute for parental supervision.
Flotation devices come in several types includinginflatable arm rings, inflatable baby chairs and waist rings with a mesh seat to hold baby up. You can always use a life vest made for boating. Make sure the pool where you swim allows these devices, some public pools do not.
What Should Parents Do?
1. Bring Necessary Things
Make sure you pack needed baby items before leaving to the pool. The most important item is swim diapers! Plus the following thing into your list:
A bottle for feeding if the baby is bottle fed
Snacks if you baby can eat some solid foods. Babies may feel hungry during swimming
Towel with hood is preferable otherwise a toweling dressing gown
Some toys to play with in the water
A fully stocked diaper bag for changing
2. Keep Your Baby Safe
There are a few safety precautions you will need to take to help keep baby safe in the pool. These include:
Check the Pool Temperature
If your baby is 6 months old or younger, make sure the water is around 32 degreeCelsius to prevent hypothermia. If you notice your baby shaking and getting cold, take him or her out of the water and wrap in a towel.
You can try to swim with your baby step by and step. Usually, it is recommended that swim for 10 minutes at the first swim session, then next time, swim for 20 minutes. Babies under 1 year old should not swim for longer than 30 minutes at a time.
Skip Swimming If Baby Has Been Sick
Do not take your baby in the water if he or she has been sick recently such as getting cold and having conjunctivitis, or is just not acting well. Besides, keep your baby out of the pool with stomach illness and avoid swimming for 48 hours after the illness has cleared.
Chlorine used in pools is a harsh chemical even for adults. If your baby is suffering from a rash, avoid swimming until the rash is cleared. You can always check with your pediatrician to see if swimming is okay.
3. Tips for Taking Your Baby to the Pool on Your Own
Get baby ready for the first swim experience by moving him on his back while in the bathtub. After your baby feels comfortable with the water, try these few tips:
Check your public pool schedules and try to take your baby when it is not full of people and other splashing children. You may even try to make it a "play date" with another friend who has a baby or see if the pool has swim sections for just moms and babies.
Keep Your Baby Entertained
Play gentle splashing games or use bath toys for baby to play with. You can place floating toys across the pool and "help" your baby swim to get them. Making swimming fun will help them get accustomed sooner.
Is There Any Risk of Going in the Pool with Your Baby?
There are a few risks that go along with taking small babies and children into lakes, rivers and public pools. Keep these in mind as you prepare to swim with your baby:
Lack of immunity to infection in babies
Bacteria and parasites in water that cause stomach illness
Risk of sunburn and skin rash
Water inhalation or chlorine exposure causing respiratory illness, bronchitis or asthma
Low blood sodium due to swallowing too much water (hyponatremia)
Exposure to too much heat (hyperthermia)
Exposure to cold water (hypothermia)
Here is a video showing some baby swimming tips that parents can do to help the baby: