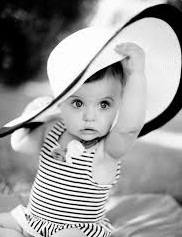 Old fashioned baby names are making a comeback. The Social Security Administration reports show that a lot of the names being used today are actually the names used back in the late 1800's to the mid1900's. In the late 1900's, these vintage names were not stylish, but are quickly becoming "cool" again.
Vintage baby names are very classic and we get to know them from our grandparent's names. They are now taking on a fresh new sound when you say them. Plus, an added bonus is these names pair up very well and have a charming sound together. If you are expecting a baby, here is a list of old fashioned baby names for you to choose from.
Top Old Fashioned Baby Names
Good old fashioned names are as good as old fashioned things. They bring back memories of the time when life was simple. Look back into history to find a perfect name that has an appeal to last a lifetime.
1. 20 Old-Fashioned Baby Names
Names

Meaning

Origin

Clara

Bright and clear

Back in the day, Clara was a very proper name. In recent years, Clara is actually a soft and flowing name. This name is often associated with Clara in the Nutcracker.

Eli

Uplifted

This name stems from the biblical name, Elijah. People often choose this name to carry on traditions of using names from the Bible.

Naomi

Pleasant

Naomi was once a very sophisticated and classy name. It is making a new emergence because of its portrayal of strength and beauty.

Charlie

Strong

This is one of the more conservative and proper boy's names modified to be a cute nickname. Parents prefer to go with this less formal version of Charles.

Alice

Noble

Not only is Alice one of the oldest old-fashioned names, it is also very feminine. It reminds us of the cutie Alice in wonderland. The name Alice was actually out of style, but now it's making a comeback.

Henry

Ruler of the household

In old times, Henry was one of the most popular and very proper names for boys. This sweet sounding name lost popularity, but is making a return to the boy's name list.

Olive

Olive tree

Olive is making a strong comeback along with other tree and flower names. Some people also choose the name Olivia which is more modern.

Leo

Lion

This name speaks of strength and is a shortened version of Leonardo or Leon. The name Leo is gaining popularity over the names Luke and Jack.

Lillian

Lilly flower

Lillian is a very vintage name that has always denoted being matronly. It is being shortened to the popular girls name Lilly and even spelled Lilli to modernize it and make it sound more playful.

Jasper

Precious stone

This name is very Southern and a popular name even over the names; Jayden or Joshua. It is inspired by the artist, Jasper Johns and sometimes also spelled, Jaspar.

Amelia

Variation of "Emily"

Amelia Earhart was a very popular female pilot long ago and the name denotes sophistication and style. It is a very old-fashioned version of the name Emily and is a good choice for a little girl to have a lasting proper name.

Everett

Wild boar

This is a very contemporary old-fashioned name that is classy. It is very upbeat and associated with British actor Rupert Everett.

Nora

Light

Nora, also spelled Norah, is regaining popularity because it is another name with an "a" on the end. This name was used in famous plays, including "A Doll's House".

Silas

From the forest

This choice is topping the names Samuel and Sidney. Silas denotes sophistication and serious. It also depicts the character from George Eliot's novel "Silas Marner".

Adeline

Adelaide

This is a shortened version ofMadeline. Madeline tends to sound too matronly. Parents are choosing this sweet name and even using the shorter version "Addy".

Max

Maxwell/

Maximillian

The longer versions are less popular and Max is a very common one-syllable name that is easy to say and use. Once used as a nickname, like Sam and Mack, it is now a popular first name.

Hazel

Hazel nut tree

Once was a very traditional choice for a name, it has become popular among the other color names used today. It is chosen alongside Violet, Sienna and Indigo.

Owen

Young warrior

This name is quickly moving to the top with new parents. It is a very sweet sounding name and popular because of actor, Owen Wilson. This name is even more popular than the old-fashioned name, Oscar.

Stella

Star

Stella speaks of refinement and stands alongside the other popular form "Ella". Now turned very contemporary, it reminds us of Stella from A streetcar named "Desire".

Oliver

Olive tree

This name or its nickname Ollie may remind us of an old grandfather. However,parents are choosing it for its charm and it reminds us of "Oliver Twist" by Dickens.
2. Top 20 Old Fashioned Baby Names for Girls
| | |
| --- | --- |
| Name | Meaning |
| Adele | Old German name for "Noble" |
| Anne | Hebrew for "favored grace" |
| Belle | French for "beautiful" |
| Birdie | Classic for "little bird" |
| Caroline | King George's Queen from the 1700's |
| Catherine | Greek for "pure" |
| Clarissa | Found in medieval papers. Latin for Clarice |
| Cora | Most likely from 1826 and means "goddess of the underworld" |
| Della | German for "noble" |
| Eleanor | Greek for "shining light" |
| Elena | Greek for "sun ray" |
| Ella | Old German for "foreign" |
| Emma | From the 1880's, "universal" |
| Evelyn | Norman in origin and actually a last name |
| Faye | Stands for "loyalty" |
| Geneva | Old French for "juniper tree" |
| Grace | Latin for "with favor" |
| Hannah | Hebrew for "favored grace" |
| Hattie | Variation of Harriet, stands for "home ruler" |
| Jane | Female for John, "the Lord is gracious" |
3. Top 20 Old Fashioned Baby Names for Boys
| | |
| --- | --- |
| Name | Meaning |
| Albert | Germanic for "noble" and "bright" |
| Arthur | Celtic from the "Arthurian" tales |
| Bernard | Germanic for "Brave" |
| Bert | Germanic for "Bright", short for "Albert" |
| Carl | German for "Charles" |
| Cecil | Roman name popular in the 16th Century |
| Clement | Latin for "merciful" or "gentle" |
| Clyde | From a river named "Clyde" in Scotland |
| Domingo | Spanish for "Dominic" |
| Donald | Gaelic for "ruler of the world" |
| Earl | Old English for "nobleman" or "warrior" |
| Frederick | Germanic for "peaceful ruler" |
| George | Greek for "farmer" |
| Harry | Medieval for "Henry" |
| Ike | Short for "Isaac", nickname of U.S. President Eisenhower |
| Otis | Medieval English surname, form of "Otto" |
| Percy | English surname, short for "Percival" |
| Randall | English for "Randel" |
| Vincent | Latin for "to conquer" |
| Weldon | Old English for "hill near a spring" |
Why Do Old Fashioned Baby Names Become Popular Again?
Picking a baby name can be tough. Old fashioned baby names give parents more options for naming their little one. The names are simplistic and can honor ancestors from long ago. Giving your baby avintage name can be far more interesting than picking an invented name.
1. The 100-Year Rule
It seems that any names used around 100 years ago are the names that people are choosing from today. Namessuch as Alfred and Rose that come from our grandparents and great-grandparents era tend to be popular again.
2. Make Your Baby Stand Out
Most parents are still naming their kids trendy names such asRiley, Summer, Jade, Aaliyah, and Taylor. But you may find that many kids have the same names in your child's class. Therefore, giving your baby an old fashioned name will give him a unique individuality and will surely make your child stand out.
3. To Honor Family Tradition
Bringing back a family name from years past can help carry family tradition into the future generations. Many families have names like Theodore, Henry, Abigail and Martha that can all be very nice for children born today just like they were years ago.