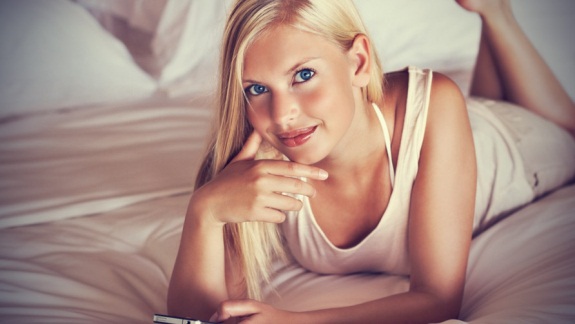 Imagine sitting on a couch in your house watching TV with your husband. After a few minutes there is an ad that has skinny models with long, tanned legs and blonde hair. Suddenly, your husband starts sitting upright and his eyes look like they are going to pop right out of their sockets. He even looks like he's going to blurt out a "Hubba Hubba".
It is at that moment that you start trying to figure out how long it has been since your husband looked that way at you. You start wondering why he never tells you how sexy you are anymore. Well, you should worry no more because after reading this, you will have all the necessary tools you need to make your husband go crazy about you once more.
How to Be Sexy for Your Husband
You are in love with your husband. However, after a few years of passion, the flames just seem to fade. Now, all you have left is a deep desire to keep the fire burning. To do so, you need to embrace a way of keeping yourself looking good. It all starts with how you think and look. If you look sexy, you will start feeling sexy and eventually start acting like it. Then you should learn some tricks on how to be sexy for your husband.
1. Be Bold
Sexy and bold are blood relatives. You can never be sexy if you fear trying out new things. Get out of your comfort zone. To be sexy with your husband you can:
Give him a surprise dirty talk when talking to him via the phone. He will be surprised and even turned on by this sudden mood.
Be adventurous and try out new food, mountain climbing or sky diving. This will help you be more open to new ideas.
Be open about the things you want. If you are in the mood for something, tell your husband about it. Not only will he respect your true feelings, but also get turned on.
Be bold and know when you should strike. While surprising your husband with sexy lingerie is a bold move, doing it when he is not in the mood or has a cold will not work. Make sure he is in the mood before making any surprise moves.
2. Be Spontaneous
Some of the sexiest moments most couples have are those that are unplanned. Be flexible enough to be sexy at any given time, even when having dinner or doing laundry. Here are some ways of being spontaneously sexy:
If you happen to feel sexy at a given point during the day, make your move. Let your husband know this by touching or kissing him in a gentle way. If the touches and kisses don't work, try some dirty talk to give him a naughty hint of what you want. He will be pleasantly surprised.
When he arrives home from work, turn off the lights and pull the shades down. Undress fully (or remain in your sexy lingerie) then lay on his desk. However, you should only do this if you plan on engaging in other sexual activities. Don't expect to surprise him this way and then expect him just to leave it at that.
Surprise him when in public. It does not have to be at the back of the car. Simply give him a special kiss or touch at the right time. If you are in an isolated place, you can make some room for romance.
Know that a good soldier is always ready for battle. Always wash your skin, shave and make sure that your breath is always fresh.
3. Remind Him of Your Sexiness
You can still be sexy with your husbandeven when he is on a business trip out of town. If you keep it sexy even with the distance between you, he will be eager to see you the next day. Here is how you keep it sexy when your husband is miles away:
If he is not in town, give him a video call. You can start strip teasing as you converse. Try not to take off too much too soon.
Send him tasteful, sexy text messages every night.
Give a sexy picture of you to take with him on his trip. That way, he will be reminded of what's awaiting him at home when he returns.
4. Show Off Your Body
Here is how you can show off even when outside the bedroom:
Have a sexy walking style. It should emphasize your cleavage or derriere.
Do physical activities that allow you to show off your stuff. You can take him with you on a hike. He will be turned on just by looking at your body.
Dancing is erotic. You can learn to strip tease or belly dance. These types of dancing give you irresistible confidence and a sexy poise.
5. Serve Sexy Food
The right food at the right time could turn a drab day into a passionate romp with your loved one.
Bake something sweet for him. Prepare cookies, muffins or a cake especially for him, then feed it to him. You can do it without your clothes on to make it more memorable.
Chocolates also do wonders. You can take a piece of chocolate in your mouth and kiss him to give it to him. You can even take some melted chocolate and apply it to some parts of your body and let him lick it off you (and vice versa). Just make sure the chocolate is not hot.
6. Make Him Desire for More
Even during meals, the appetizer comes before the main course and then dessert comes last. Be subtle with your sexiness and do not throw it all out there. Here is how you can leave him wanting more of you:
Do not go straight to sex after making out. Allow his passion to build by letting him linger all over your sexy body.
Do not give in to sex every time he asks for it unless you also want to. Be sexy when you are feeling sexy.
Smart Tips on Turning Your Husband On
Now that you feel, look and act sexy, the next step is to make sure that your husband is turned on. Here's how:
Guide him so that he will do what you like. Take his hand and put it in places you want it to go. This will not only make you feel sexy, but also turn your husband on.
Bring out the toys to play. Use sex toys to stimulate the shaft of his penis while you give him a blow-job. This will bring new heights of orgasm.
Try out new positions when being intimate. You may be surprised at how much both of you enjoy new sex positions. Just have several extra pillows in case you want to try out some yoga positions.
Get down dirty in the shower. Join him in the shower and help each other get clean after a steamy session.
Check out this video for more information on how to be sexy for your husband: