Buying a humidifier for baby's room can be overwhelming for new parents. When babies have a cold they can be miserable and no one wants to think of shopping when they are trying to comfort a fussy baby.
Many things can upset baby's breathing such as cold climate with constant use of heaters, dry climates with little humidity and the common cold virus. Since the FDA recommends not giving young babies and children over-the-counter cold medications, humidifiers are one of the only options. There are a few important things to look at when shopping for a humidifier for a baby.
How to Choose the Best Humidifier for Baby
Caring for a sick baby with a stuffy nose can be exhausting for new parents. Colds can cause many sleepless nights and with the help of a humidifier you can all get some rest. It is important to understand some humidifiers may not be safe for use with babies or safe for the nursery. Chosen carefully, the best humidifier will help keep nasal passages clear and be best for you and your baby.
1. Steam vs. Cool Mist
Cool mist humidifiers are the most recommended for a few reasons. Steam does kill the bacteria in the water, but there is a risk of burns. Both cool mist and steam moisture end up being the same temperature once it gets into the lungs. Cool mist uses less electricity since water doesn't have to be heated and are cheaper to buy.
2. Ultrasonic / Filter / Impeller
Ultrasonic units are the most quiet. The Impeller models are the next quietest type and filter types tend to be noisy. The ultrasonic type uses ultrasonic vibration to make a fine cool mist. The impeller type uses a rotating disc to make the mist and the filter unit uses a fan and filter to make a mist by evaporation. If you want one with less noise, opt for the first two types.
3. Keeping Bacteria Levels Down
Any humidifier will build up bacteria. Every time a humidifier is used, the water must be dumped and the tank cleaned out. This is why it is important to buy a humidifier that you can easily dump and refill with each use. Not dumping a humidifier can cause mold and bacteria to grow and cause illness. Some models come with cleaning brushes to help you keep them sanitary. To reduce bacterial growth, there are units that have "anti-microbial technology" in the form of silver ion or UV lights that help reduce bacteria and mold.
4. Using a Humidistat
A humidistat can monitor and keep humidity levels at no more than 50% in the room where it is being used. It is recommended that rooms be kept at around 30% in the winter time. This prevents mold growth and reduces problems in people with allergies and asthma. This is a separate item and can be found in common household stores.
5. Filters
Units with replaceable filters tend to be more expensive and need more upkeep. Look for a model that does not have a filter, since you will be cleaning the water regularly anyway. This will save you money. If the unit has a permanent filter, see if it can be removed, cleaned and re-used.
6. Auto-Off Feature
If you do choose a steam humidifier, try to find a model with an automatic off switch. This will help save on your electric bill and provide for some safety with the unit. It is also designed to shut-off when the water tank runs dry.
Once you find the best humidifier for baby, make sure you practice these safety tips:
Be sure to fill with bottled distilled water to reduce mineral buildup.
Unplug the humidifier when you are not using it for baby's safety
Empty and clean your humidifier after each use
Recommended Best Humidifier for Baby
1. Crane Adorable Ultrasonic Cool Mist Humidifier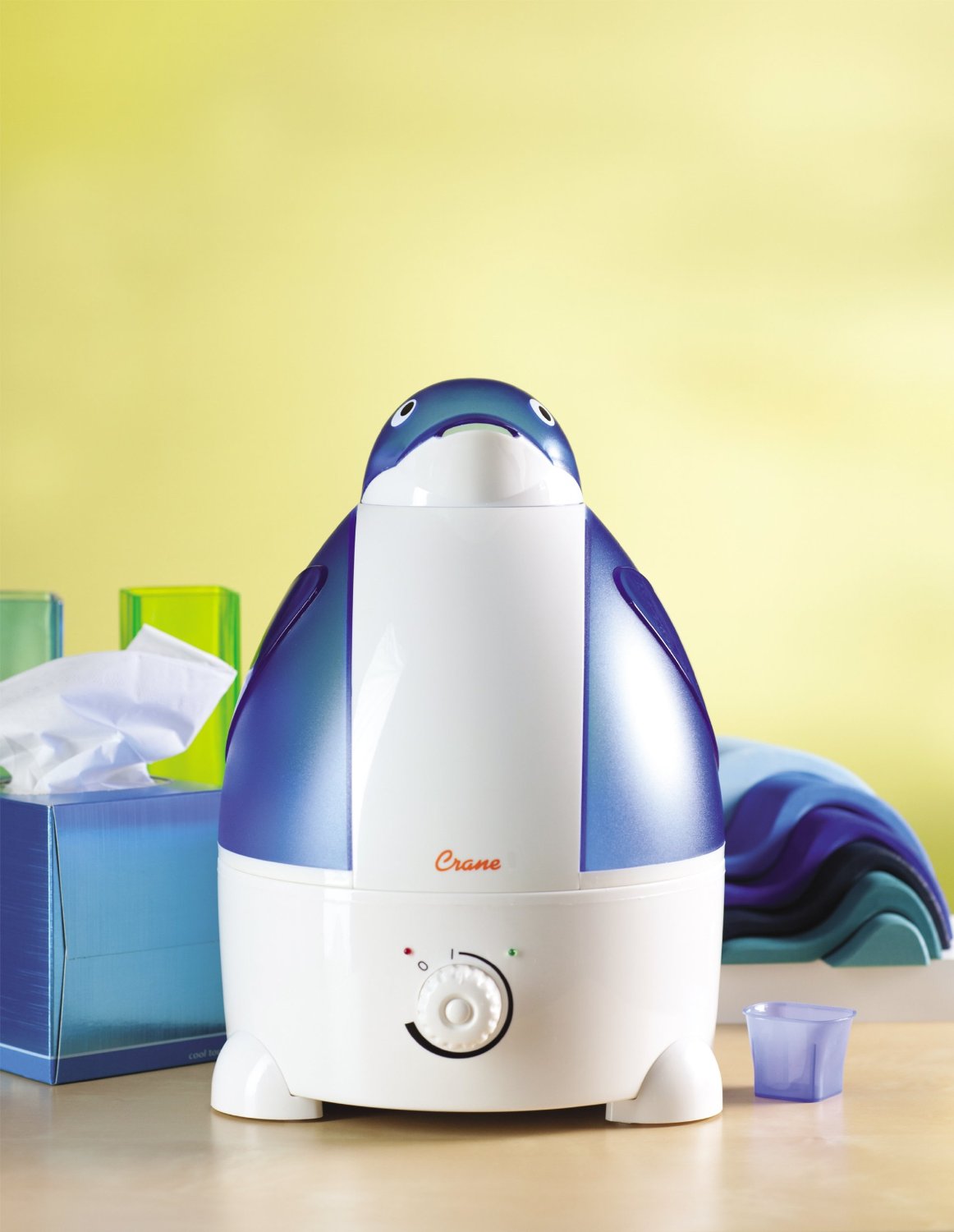 The Crane Adorable Ultrasonic Cool Mist humidifier uses ultrasonic technology to quietly produce a mist to relieve your child's stuffy nose. Ultrasonic humidifiers are the quietest type so your little one doesn't lose too much sleep. It runs for 11 hours on one tank of water and puts out 2.1 gallons of cool mist to relieve stuffy noses, cough and dry respiratory passages. This humidifier can mist up to 250 square feet of space and is perfect for your child's room decor. This unit does not require a water filter and is designed for easy cleaning. The plastic is BPA Free. It uses minimal electricity and is equipped with an auto shut-off feature for added safety.
2. Kids Line Ultrasonic Cool Mist Humidifier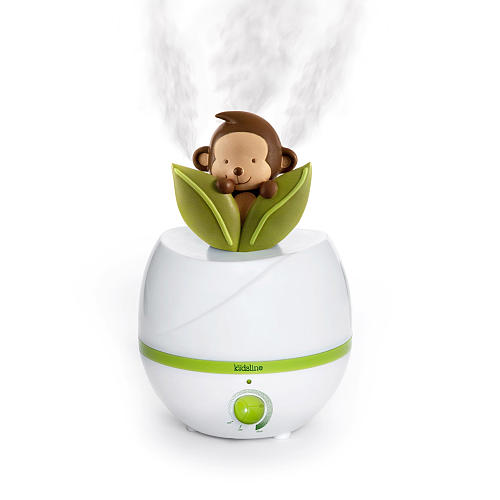 The kids Line Ultrasonic Cool Mist Humidifier comes in a few different character shapes that will accent your child's room while relieving congestion. The top turns 360 degrees to mist the entire room, up to 225 square feet of space. It has an 84.5 ounce tank with a window indicator for water levels. The tank is removable for filling and has an indicator light with an adjustable dial for mist control. It does not need a filter and runs for up to 24 hours. The ultrasonic design means quiet relief so your child can sleep. This model does not require a filter. The product information does not list an auto shut-off switch.
3. Vicks Warm Mist Humidifier with Auto Shut-Off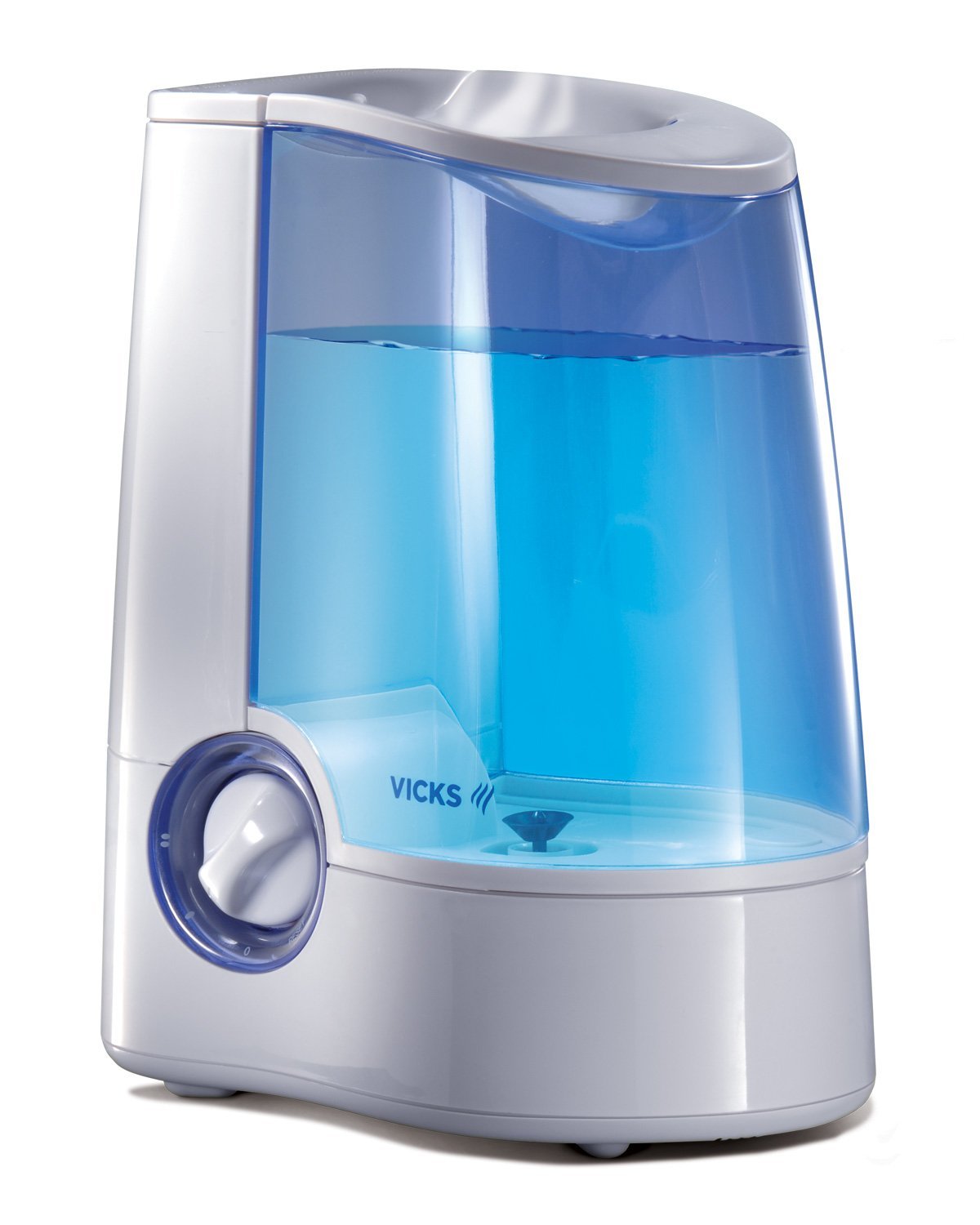 Vicks is one of the most popular names when it comes to remedies for congestion and cold symptoms. The Vicks Warm Mist Humidifier is also one best humidifier for baby. It has a steam unit that boils water to create a mist in the room. This model has an Auto Shut-Off feature and provides up to 12 hours for steam. It comes with a one gallon tank, a nightlight feature and runs quiet. There are two different settings for maximum comfort and it comes with a cup to place Vicks Vaposteam into the unit. The mist is 95% bacteria free.
4. Safety First Ultrasonic 360 Degree Humidifier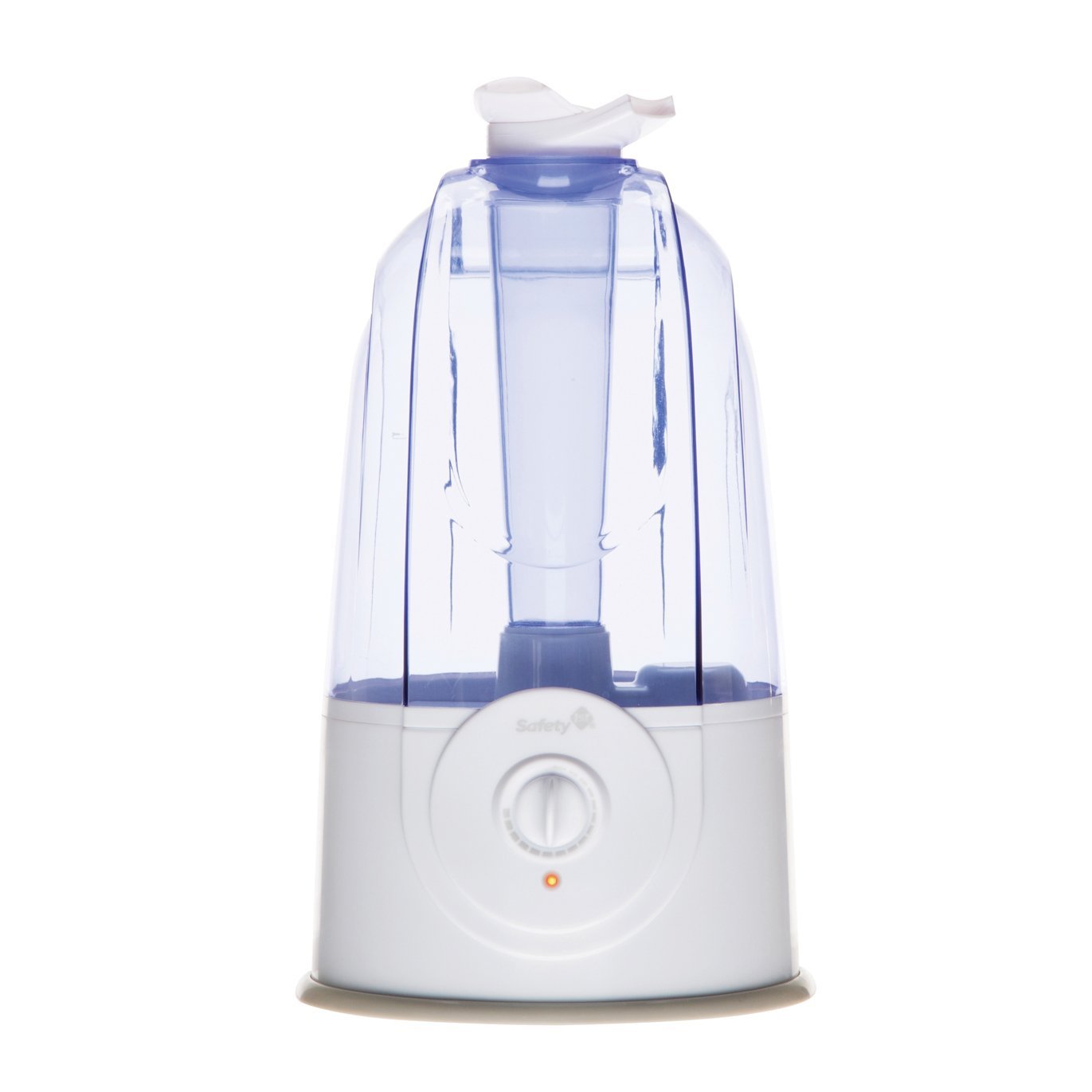 Safety First is a leader in baby products and the Safety First Ultrasonic 360 Degree Humidifier was designed with baby safety and comfort in mind. This unit uses gentle moisture to soothe stuffy noses and help breathing. The unit is very quiet and turns 360 degrees to cover all parts of the room. It is equipped with an Auto Shut-Off and stays on for 12 hours per tank of water. For easy maintenance, this unit does not use a filter and is easy to dismantle, fill and clean.
5. Homedics Cool Mist Humidifier for Baby with Built-in Soundspa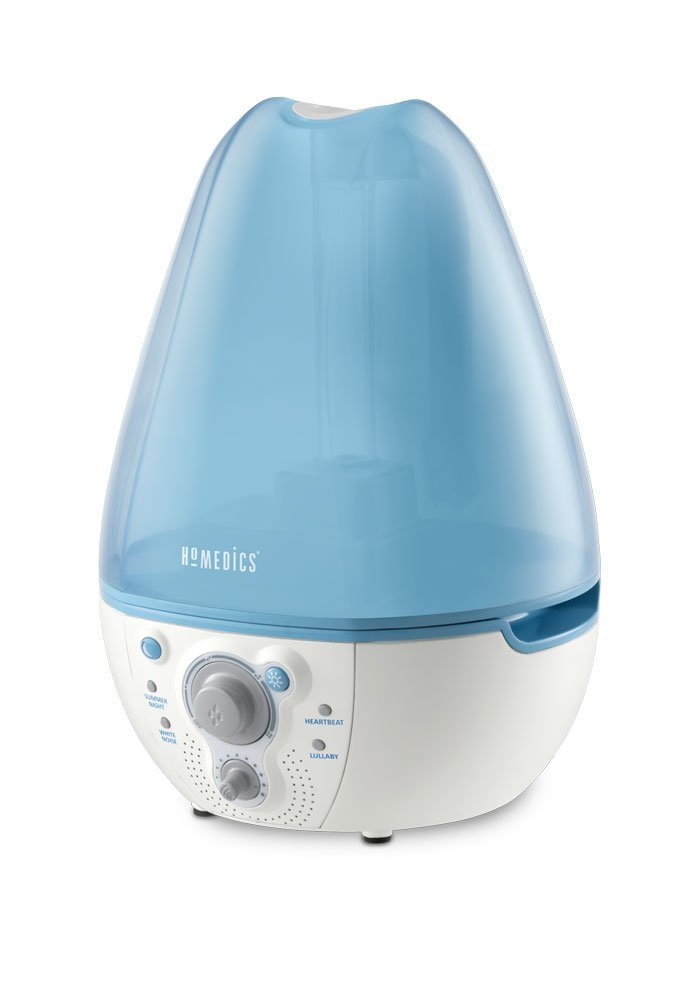 The Homedics line is a little pricier than others but worth the investment. The Homedics Cool Mist Humidifier is an ultrasonic unit that runs almost silently. It is equipped with sounds including summer night, lullaby, heartbeat and white noise to lull your baby to sleep. It is built with Anti-microbial technology to reduce the growth of bacteria, mildew and mold on the tank surface. This unit comes with an Auto Shut-Off for 30 minutes or when there is no more water in the tank. You can adjust the mist and volume. It has a night light that you can turn on and off and a filter to clean out minerals from the water.